July 31, 2005
(This post is from my old, old, super old site. My views have changed over the years, hopefully my writing has improved, and there is now more than a handful of folks reading my site. Enjoy.)
Sunday, July 31st, 2005
FlySketch has been doing pretty well since the 1.5 release- alot better than I thought it would. VoodooPad has also been getting some love too by the halo effect (and by MacZealot's top 10 list). I was curious where all the inbound links were from, so I ran analog against my httpd logs to see where the requests were from, and hey! It looks like Apple accepted my listing for the "Mac OS X Downloads" page. Cool!
So I head on over there, and what do I see?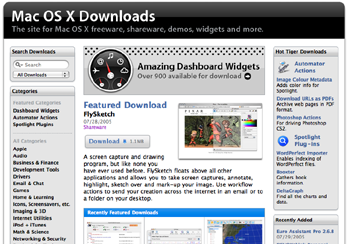 Whoa. FlySketch is the "Featured Download". W00t!
And they used the screenshot I submitted, even though I didn't think they would since it obviously contains "copyrighted materials".
Awesome.
-- posted 4:53 pm