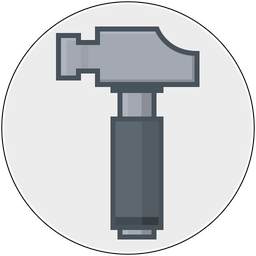 The Shape of Everything
A website mostly about Mac stuff, written by August "Gus" Mueller
The Grouchy Chef Says He's Not Grouchy
The blue warehouse at 4433 Russell Road is where utilitarian meets authoritarian. The outside looks more menacing than fine dining. It's marked by a Grouchy Chef cartoon of a frowning face and outstretched hands wielding a pan and spatula. The door is covered with handwritten warnings about what not to wear and where not to park and how not to act.

Inside, on polished floors, nine tables are immaculately set with fine china in an ambient lit dining room.

You forget it's a warehouse — but not that the warden is watching.
I haven't been to The Grouchy Chef for a while now, but I've always loved it when I did. In the past Kirstin and I would go a couple of times a year and it's a great experience if you're not a fussy person. We've taken friends there when we were pretty sure they would enjoy it. We've not taken other friends there, because we know there would be problems.
When Kirstin was (very obviously) pregnant with Madeline, we went for dinner and I got a glass of wine with the meal. Chef made a bit of a fuss to make sure Kirstin wasn't having much, if any. This wasn't from a position of authority, or him being mean- you could tell he cared in his own way about the well being of everyone.
About 7–9 months later, after Madeline was born, we got Grandma to watch the kid and we went back with a couple of friends for a meal. Even though we would only go visit The Grouchy Chef a few times a year, he remembered us and that we were having a kid- and with very few words spoken, he gave us a complementary bottle of champagne.
© August Mueller.